Noka-minshuku (lodging house for tourists run by a farming family) Ueta
Enjoy tasting doburoku (unrefined sake) at Noka-minshuku "Ueta."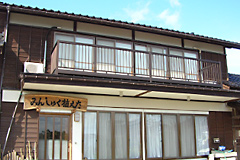 "Noka-minshuku Ueta" is located in the Kanai district in the center of Sado Island. It is situated in the area rich in nature where if you go a little further, you will come to the vast granary of Kuninaka Plain.
"I thought I would make a challenge to do something that nobody had done on Sado so that it would trigger the local revitalization of Sado," said Mr. Hideo Ueta, the owner of Noka-minshuku Ueta. Sado is recognized in Niigata Prefecture as "Sado Tokimeki Doburoku Special Zone," which authorizes a noka-minshuku to make doburoku." As of 2010, however, Ueta is the only place on the island where unrefined rice wine is produced and sold.
The noka-minshuku which opened sparked by doburoku is now a place of communication where the farming family meet and serve people from outside Sado. It is a noka-minshuku that provides heart-warming hospitality.
Doburoku "Sado no Tokimeki" and "Sado no Tokiiro"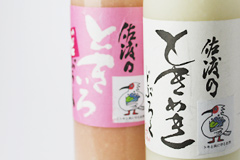 Doburoku is a sake made by adding rice malt to steamed rice, and as its another name "nigori-zake (opaque sake)" implies, it is opaque and white, with the color being charateristic of doburoku. By using as material "Koshitanrei" Koshihikari, the rice suitable for sake-making, which Mr. Ueta has cultivated with devotion, the doburoku comes to have a sourer flavor than ordinary sake and taste fruity like wine.
"Sado no Tokimeki" won a prize in 2008 and 2009 in "the Tanrei devision of the National Doburoku Association Contest," which was held in Yamagata Prefecture. "Sado no Tokiiro," the pink-colored doburoku made so that it can be associated with the color of the wings of toki (Japanese crested ibises), won the excellence prize in 2009 in the Nojun division of the same contest. With the wish to cherish the natural environment under which humans coexist with toki, Ueta continues to study each day, paying careful attention to the management of sake.
Showing the guests hospitality with Sado's local dishes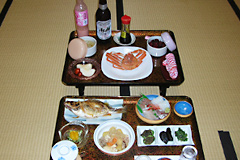 Mr. Ueta has come to always feel conscious of showing the guests "hospitality" through his noka-minshuku that started with the doburoku.
At mealtimes, various local dishes peculiar to Sado are spread on the table, from dishes made from bounties of the sea and mountains and materials of Sado, to the homemade igoneri (food made from egonori seaweed that looks like noodles) and home-grown vegetables. When guests who prefer to stay without board cook for themselves, home-grown vegetables are sometimes served. In addition, there is a space for a tea ceremony, and if you wish, matcha green tea will be prepared for you.
You can spend a leisurely time of Sado in this noka-minshuku that makes the most of the natural environment of Sado and welcomes you with the heart of hospitality all the time.
More details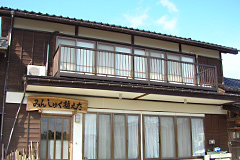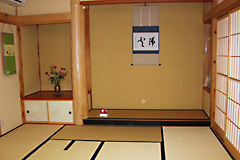 name of facility
Noka-minshuku Ueta
address
1464 Nakaoki-otsu, Sado City, Niigata Prefecture
FAX
0259-63-3561
business hours
Checkin / 13:00  Checkout / 12:00
a regular holiday
no holidays throughout the year
a parking place,
a parking lot
Parking place: available / Free of charge / 3 cars
a charge for
using (…)
An overnight stay with two meals (for adults) / 8,000 yen
An overnight stay without board (for adults) / 4,500 yen
payment method
cash
remarks column
Experiencing hands-on activities is limited to one group a day.
---