Green Village
The motto is providing hearty hospitality that will make you feel at home.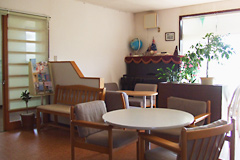 For some time after Green Village opened, guests sometimes had to share a room with strangers, in part because it was a youth hostel. But because the owner wished her guests to "relax more comfortablly"and more and more guests came to prefer a private room, she switched Green Village from the youth hostel system (the cheap membership-system lodging facility with guests sharing a room with strangers) to a simple lodging facility where guests can enjoy their private time.
The space where you can sip coffee leisurely in the morning and in the evening, viewing the good old original lansdcape of Japan which can be seen through the living-room window. Keeping in mind such "hearty hospitality that will make you feel at home," Green Village is welcoming guests.
The youth hostel "Green Village" was opened in the spring of 1992.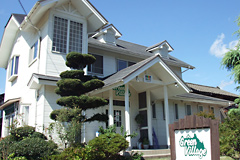 The owner of Green Village moved back to Sado Island in her late twenties. The peg to start the youth hostel was an encounter at the insurance company for which she had been working for ten years while raising her children. A person who happened to join thecompany ran a youth hostel. She invited her to join her, saying, "Maybe you can run a youth hostel" even on Sado Island, where it is difficult to get a job while raising children. The owner is said to have decided to launch the hostel business as she listened to her story, thinking that "it would be rather easy."
At first, she had to do everything in a trial and error method, and she frequently had something to learn from her guests. Still, in the spring of 1992, her business started with college students from Tokyo as her first guests. Word spread from one person to another, and guests who would stay for the night began to increase gradually. Some of those guests became friends with one another, and some of them are said to come to stay at the same time every year.
Most of the guests are business people and tourists from foreign countries!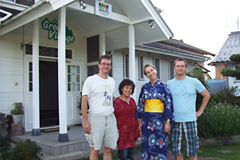 Most of the lodging guests are business people and foreign people who got tips via the Internet, Lonely Planet Travel Guide and Travel Information, and Michelin Guide.
In the living room people who have come from all over the world to enjoy Sado gather, and exchanges pop up, and they end up being friends. Such things are daily happenings. Maybe because this atmosphere is comfortable, most of the guests are said to be repeaters. It is really pleasing to the owner, too, to reunite with the guests.
If you have time, the staff will ask you about your schedule and explain to you various things about Sado's scenic spots and charms.
More details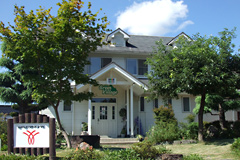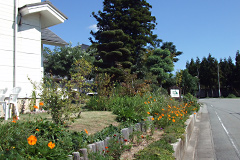 name of facility
Green Village Patio House
address
750-4 Niibo-uryuya, Sado City, Niigata Prefecture
TEL / FAX
0259-22-2719 / 0259-22-2719
website
http://www.e-sadonet.tv/~gvyh/eng/
business hours
Checkin / 16:00  Checkout / 10:00
Closing time / 22:00 (You are supposed to return by 22:00.)
a regular holiday
The year-end and New Year (December 28 - January 5), otherwise open daily except otherwise noticed
a parking place,
a parking lot
Parking place: available / Free of charge / 7 cars
a charge for
using (…)
Single room (for 1 person) 4,000 yen (tax excluded)
Room with bunk beds (for 1 to 4 persons) 3,600 yen per person (tax excluded)
Meal
Breakfast / 700 yen
Dinner (a meal of fixed menu) / 1,500 yen
Pizza (※Please make a reservation.)
Equipment
Bath towel Towel for sale / 1,000 yen Rental towel / 100 yen
A set of toothbrushing utensils / 150 yen
Facilities Overview
【Maximum guest capacity】 15 people
【Number of rooms】 Single rooms / 3 rooms
Rooms with bunk beds / 3 rooms
【Facility】 Coin-operated laundry
payment method
cash or credit card
remarks column
*In Green Village wireless LAN is available free of charge. One desktop personal computer is also equipped for the guests staying for the night.
*Basically, guests are expected to stay without board. If you would like to have meals served, please talk to the staff and make a reservation.
*You will never have to share a room with strangers.
---