Oyado (inn) Kagetsu
"Kagetsu" is a hot-spring inn beside Lake Kamoko that makes you feel easy and comfortable.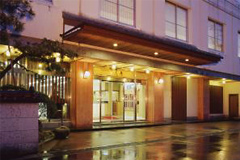 "Oyado Kagetsu," Sado's hot-spring inn beside Lake Kamoko is a long-established inn which is five minutes' drive from Sado Kisen Ryotsu Port. It is also close to the shopping center and main streets.
The serene landscape of Lake Kamoko and quiet environment will relieve your fatigue from traveling.
In addition, the inn has a hot-spring bathroom whose water is weak alkaline and hypotonic, and contains hydrogencarbonate. Kagetsu is one of the only two rare hot-spring establishments on Sado whose water is dark reddish-brown. The spar water feels smooth and is said to have an effect of smoothing the skin that has keratinized. This is why it is referred to as "the spar that makes women beautiful."
Have a pleasant time at the inn!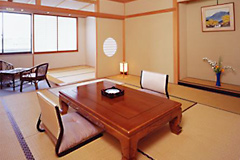 Kagetsu provides various services so that the guests can have a pleasant time in the inn. There is "the free loan of comic books" as a rare service that few other inns and hotels provide, and the guests can borrow them for free. The inn has all kinds of comic books everyone can enjoy, from children to grownups. They are said to be popular mainly among families and business people.
Among other services for those guests who wish is a short training course in which the landlady herself teaches you how to dance Sado Okesa. For those guests who want to go trekking, Kagetsu will arrange for a trekking guide and give you some advice on what course to take.
Certainly not to be missed are the bamboo works decorating the wall!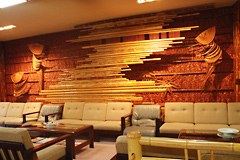 The bamboo works decorating the wall of the lobby as if the entire wall were a canvass are
the work of Mr. Kazuaki Honma, a bamboo handicraftsman of Sado.
"Uta no Shima" (the island of poetry), the masterwork produced in 1970, is made out of shiratake (white-colored bamboo) and susutake (soot-colored bamboo), with a Sado-shaped decoration in the center and ones patterned after Sado Okesa dancers around it.
Now that it is next to impossible to obtain the materials used for this work, and craftsmen who can produce works that match Mr. Honma's have decreased in number, it is said that handicrafts as good as his can never be made now.
More details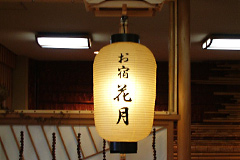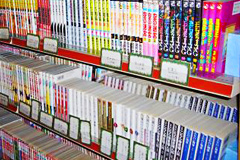 name of facility
Oyado (inn) Kagetsu
address
262 Ryotsu-ebisu, Sado City, Niigata Prefecture
TEL / FAX
0259-27-3131 / 0259-23-4446
e-mail
sunrise_ueta@yahoo.co.jp
website
PC
business hours
Checkin / 15:00  Checkout / 10:00
a regular holiday
no holidays throughout the year
a parking place,
a parking lot
Parking place: available / 20 cars / Free of charge
a charge for
using (…)
Room charges (tax included)
In case 1 person uses 1 room / 7,500 yen
In case 2 persons use 1 room / 12,900 yen
In case 3 persons use 1 room / 16,2000 yen
Meals
Breakfast / 840 yen
Dinner / 3,150 yen, 3,650 yen, 4,200 yen
payment method
cash or credit card
remarks column
*If you wish, the landlady will teach you how to dance Sado Okesa. (Free of charge. Reservation required)
*Only in the lobby, wireless LAN is available.
*Oyado Kagetsu has a large hot-spring bathroom.
---