Saitousyouji Inc.
Saitousyouji sends out Japanese beauty to the world in its entirely new forms.
"Yuzen Kimono Curtains 'MIYABI,'" "Yuzen Ukiyo-e Folding Screens 'TAKUMI,'" "Yuzen Antique-style Folding Screens 'TAKARA'" and "Yuzen Ukiyo-e Picture Frames and Hanging Scrolls 'SHIZUKA'" produced by Saitousyouji Inc. are the top-level Yuzen fabrics made by the traditional Yuzen handicraftsmen who have resurrected the heritage of Japanese beauty, including national treasures, to the modern age, with their expert skills.
Saitousyouji is a company that exhibits its products not only in Japan but also at international trade fairs in such foreign countries as Germany and France, actively expanding its business overseas.
Yuzen Kimono Curtains "MIYABI"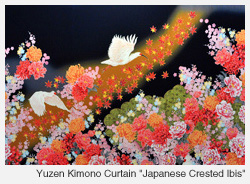 Japanese formal wear "Kimono" has earned much praise and admiration from all over the world for its elegance, refinement and gorgeousness. Yuzen Kimono Curtains "MIYABI" have been made by boldly transforming kimono as "something to wear" into kimono as "something to view" or "something to enjoy as a room decoration" by setting off the patterns of the kimono.
Saitousyouji has utilized walls and windows as huge canvases and made large pictures as tapestries and curtains, using the same designs and colors as those on the kimono. Thus, 100% silk fabrics have been made into the palatial and refined Yuzen Kimono Curtains "MIYABI" with the expert technique of Yuzen dyeing that boasts the 400-year tradition.
Yuzen Kimono Curtains are finished up through more than 70 manufacturing processes beginning with trial designing. The handicraftsmen's stupendous persistence and careful attention enable the elegant-colored flowers to blossom.
Yuzen Ukiyo-e Folding Screens "TAKUMI"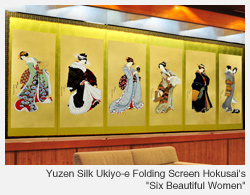 The painters have copied hand-painted Ukiyo-e pictures on silk canvases called "Ekinu," employing the time-honored Japanese copying technique called "Ageutsushi," and the traditional Yuzen handicraftsmen finished up the Yuzen Ukiyo-e Folding Screens with all their heart and soul, using the same natural mineral pigments and Chinese white as those used in the Edo era.
As for the folding screens themselves, the traditional handicraftsmen have concentrated all of their expert skills on making them. By using genuine gold foil and brocade, the picture framers and the lacquerers using genuine lacquer have elevated them to works of the highest grade.
The reason why these precious and expensive artistic handicrafts that Japan boasts were named "TAKUMI" is that they have been brought about by the concentration of the master craftsmen's skills. ("Takumi" is a Japanese word for "master craftsman.")
Yuzen Antique-style Folding Screens "TAKARA"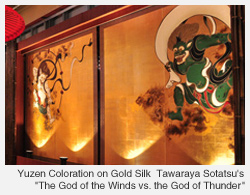 Yuzen Antique-style Folding Screens "TAKARA" have been produced based on "Antique-style Yamato-e Folding Screen," a national treasure and important cultural property. "TAKARA" have been sent out to the world as a sublimated form of artistic handicraft that is more than just a reproduction of Yamato-e.
Taking notice of the fact that many painters such as Tawaraya Sotatsu and Ogata Korin who produced many Japanese national treasures had actually started out as artists in the genre of Yuzen Kimono or Ogi (Japanese folding fan), and keeping in mind the principle of "starting from Yuzen and going back to Yuzen," Saitousyouji has asked the traditional Yuzen handicraftsmen to devote themselves to producing one work a year and to complete it as the authentic "Yuzen Coloration on Silk Gold of Folding Screen," placing gold foil on the silk material.
Yuzen Ukiyo-e Hanging Scrolls and Picture Frames "SHIZUKA"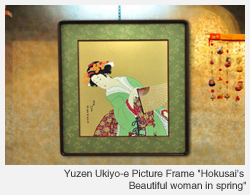 Yuzen Ukiyo-e Hanging Scrolls and Picture Frames "SHIZUKA" have been given birth to in response to various requests from customers. One of the requests is that smaller articles be made in place of Yuzen Ukiyo-e Folding Screens, which are sometimes "too bulky to place in a small room for room decoration."
As for mounting for the hanging scrolls, the paper hangers specializing in traditional handicraft have finished up the work by hand with great care, using high-quality fabrics and gold foil.
The picture frames are made of wood in purely Japanese style while the mats are made of washi (handmade Japanese paper). The Ukiyo-e pictures, enclosed by such frames and mats, are backed with many sheets of washi, which makes the pictures strong and solid.
More details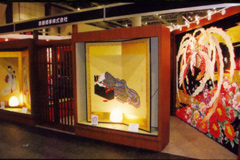 name of facility
Saitousyouji Inc.
address
87 Akitsu, Sado City, Niigata Prefecture
business hours
9:00 - 17:00
a regular holiday
Sundays
a parking place, 
a parking lot
Parking place: available / Free of charge / 12 cars
remarks column
*Wanted: buyers and distributors.
*For details about the products, please visit the Saitousyoji website.
Please make inquiries by telephone, fax or e-mail.
【Reproduction or diversion without permission is forbidden】
The images on these pages are reproduced by courtesy of Saitousyouji Inc. The copyright belongs to Saitousyouji Inc. Such acts as reproduction or distribution without prior approval are strictly forbidden.
---