Craft Studio HOMMA-KOUGEI
A story about vessels crafted at "Sado Nandaigama," the pottery craft studio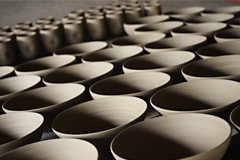 At Nandaigama, the desire to "have vessels baked on Sado used at the tables in the homes of Sado islanders" led the craftsmen to start making pottery in 1973.
Until now, they have crafted everything from rice bowls to objets d'art (items of artwork).
Among other things the chinaware has been popular and it is said that they have heard many people say, "I found the chinaware you've made very handy!"
The craftsmen says that they feel the reason why may be that their pottery are "simple and commonplace."
Making pottery from materials produced on Sado Island!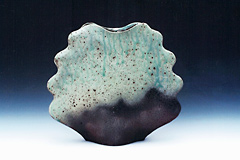 It is said that the clay brought from Shigaraki has mainly been used so far, but that 20 odd years ago (in the mid-1980s) Homma-Kougei began to use the clay produced by rotenbori (the method of digging the ground while spiraling down from the earth's surface toward the the deeper part of the underground) at the foot of Mt. Donden.
The generous nature of the clay is said to be suitable for handiwork and enable the craftmen to mold anything freely.
The "graze" is mainly made from ashes of trees of Sado (Japanese oaks, pines, camelias, branches of kiwi fruit and so on), and the craftsmen said that the difference in the varieties of trees makes the hues a little different from each other, which makes the handiwork both difficult and interesting.
In their opinion, it is very wonderful that they live on Sado and can make pottery from materials produced on the island.
They were crafting pottery, wishing to have as many people as possible encounter the vessels crafted at Nandaigama.
"Bamboo works" are very rare handicrafts now.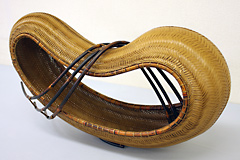 Sado is an island blessed with many high-quality bamboo woods, but the problem is that there are no successors. Toward the end of the Taisho era (around 1926), the local industry of making handiworks out of the island's "Japanese timber bamboos" started. Besides the production of large numbers of "bamboo hoops" for shipment to Hokkaido, many people were engaged in making bamboo works, and enjoyed the benefits of bamboos. With the change of the times, however, the demand for bamboo ware has fallen, and as of 2010 fewer than ten people are said to be engaged in bamboo handiwork on the island. At Homma-Kougei, too, where about forty craftsmen used to make bamboo works, only one man is now said to be producing modern "original vases" and "objets d'art." He spends each day doing his job, wishing to see successors come to him.
As a side job, he is also producing "Gokakudake," cute bamboo good-luck charms designed to ensure that the holders pass the entrance examinations.
More details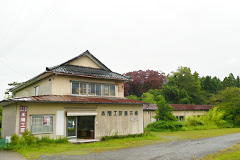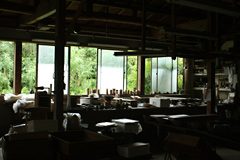 name of facility
Craft Studio HOMMA-KOUGEI
address
908-2 Hatano, Sado City, Niigata Prefecture
website
http://www.e-sadonet.tv/~h-kougei/ (Japanese only)
business hours
9:00 - 17:00
a regular holiday
Sundays, the year-end and New Year (December 28 - January 10)
a parking place,
a parking lot
Parking place: available / Free of charge / 30 cars
Product Handling
Pottery and bamboo works
---