Tubakiya
Exhibition and sales of mumyoi-yaki pottery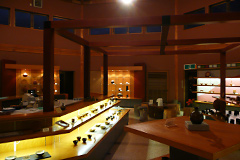 Tubakiya is the pottery's direct sales store that mainly deals in the pottery produced at "Hananoki Kaze-no-kama," the mumyoiyaki pottery. In the octagonal building, which is rare on Sado, mumyoi-yaki pottery (coffee cups, bowls, tea cups, pots, vases and so on) is exhibited and sold.
Each article has a different pattern, so please watch them, touch them, and look for your own favorite.
"Mumyoi-yaki," Sado's pottery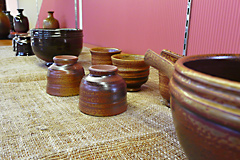 "Mumyoi" originally means red-colored clay containing much iron that has been dug out of Sado Gold Mine, and it is said to have once been used as a hematinic in traditional Chinese medicine. In recent years, the pottery which is made by mixing this clay with ordinary porcelain clay and baking it at a high temperature is called "Mumyoi-yaki," and has become Sado's specialty which is well-known as metalic pottery.
Mumyoi-yaki pottery is hard and strong, and the more you use it, the more lustrous the pottery becomes.
The works of pottery are exhibited, too!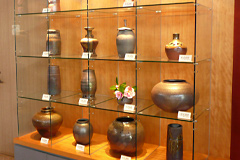 At Tsubakiya, "Mumyoi-yaki Saien," the work for which Mr. Tosei Watanabe, the owner of Hananoki Kaze-no-kama won a prize and was decocrated with an order overseas, is on display. Please do appreciate the marvel of Mr. Tosei Watanabe's works with your own eyes.
What is "Mumyoi-yaki Saien"?
It is a work of pottery made by baking the red clay and bringing out the gold color. "The golden flames" brought out by firing the clay at a high temerature without using any graze have a unique taste that cannot be found in anything else.
More details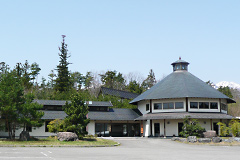 name of facility
Tubakiya
address
111-1 Kaizuka, Sado City, Niigata Prefecture
business hours
9:30 - 17:00
a regular holiday
Scheduled to be closed during the winter season
a parking place,
a parking lot
Parking place: available / 30 cars / Free of charge
Large-size buses can be parked, too.
commodities that are dealt in (sold)
Works of pottery
payment method
cash or credit card
---